World famous QUALITY products
---
RIDING EQUIPMENT CATEGORY
---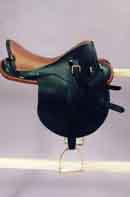 BOCK (MILITARY) SADDLE
One of the most comfortable saddle,
which is used very often for long distance riding.
If you want to see more details please click on the photo.
---


MILITARY AND HUNGARIAN "HUSZÁR" SADDLE
The first photo is another military saddle,
but with another combination of color.
An interesting type of saddle is the so called "HUSZÁR" saddle,
which represent a piece of Hungarian horseriding history.
This type of saddle was used (like the military too), for long distance driving.

---

SADDLE AND LACED BRIDLE
A lot of people likes special things.
One of these is to ride with nice laced bridle
with braided elements on it (the so called "TRAPPINGS")
---